DIGITAL TWINS
Real-time simulation models to develop, test and operate machines.
---
Developing HIL simulators and training simulators for the high-tech and marine & offshore markets.
CASE STUDIES
Build digital twins to test the viability of new designs.
---
Improve quality: Test operations before a machine is actually build.
CONTROL SOFTWARE DESIGN
Use our digital twins to develop control software.
---
Work faster: Instantly change the weather and other conditions to test the operation of your controller.
HIL SIMULATION
Couple digital twins to PLCs to test control software.
---
Improve quality: Test operations that are too dangerous or expensive to do on a real machine.
TRAINING SIMULATORS
Couple digital twins to 3D visualization and HMIs.
---
Reduce stress: A training simulator can simply be restarted when you make mistakes.
From Virtual reality to Real Innovation
Designing the future with Digital Twins
Controllab makes digital twins to test control software and build training simulators for the high-tech systems and marine & offshore markets.
Our customers develop machines that require lot of software to operate. Testing this control software can only be done when the machine is assembled on site. Problems in the control software can lead to delays and even damage. Our digital twins are simulation models that closely resemble a real machine. By coupling these twins to their control software, our customers can do tests without a real machine. They can solve problems easily and deliver software that works right the first time.
With in-house developed simulation tools and over 30 years of experience, we can build digital twins that resemble real machines very accurately. We have special technology to make these twins run in real-time and show the machine in 3D animation. This makes our digital twins ideal for interfacing with control software. Our digital twins are so realistic, customers even use them for training.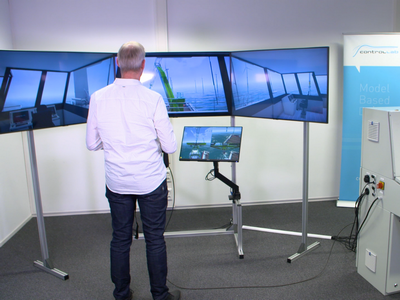 Quality
No limitation of testing environments and conditions. Better testing will bring better quality.
Efficiency
No Making knowledge share between your stakeholders more easier and efficient way.
Cost-effective
No more worry about making mistakes and reducing in real machines downtime.
Today's machines are increasingly automated, digital, and smart. Developing the  control software for these machines is a major challenge, especially for one-offs where testing is limited and failures are disastrous. Controllab helps companies to meet this challenge with digital twins.
Our digital twins are simulation models that mimic real machines. We apply physics and use measurement data from other machines to make our simulation models behave exactly as the real machine. And we are experts in letting these models run in real-time. This allows us to couple digital twins to control software and run them as if you are running the real machine. Therefore our digital twins are suited very well for the development and testing of control software. This is also known as Hardware-in-the-Loop (HIL) simulation.