Eagle-Access Training Simulator
Client: EAGLE-ACCESS
Eagle-Access B.V. is bringing an innovative crane to the market that transfers people offshore platforms. Controllab was asked to develop a training simulator for this machine.
EAGLE-ACCES
The Eagle-Access is an innovative crane for the transport of people. It is fully electric and compensates the motions of the ship. This allows passengers to be safely transported from a ship to a wind turbine. The Eagle Access is fully balanced and lightweight and uses much less energy than other transportation systems. This makes it perfectly suitable for operating on smaller ships. Controllab was asked to develop a training simulator for the Eagle-Access.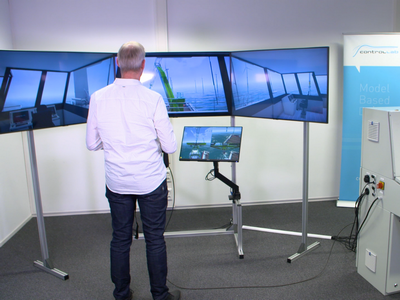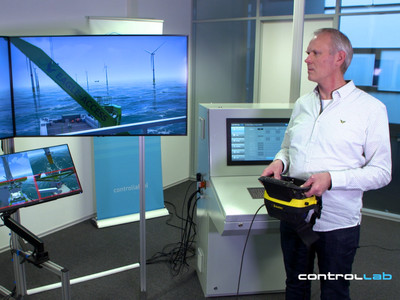 TRAINING SIMULATOR
The advantages of this training simulator are obvious. In a very short time, you can train many scenarios with many different weather conditions. There is no need to travel to the ship and claim valuable operational time. And most important: on a simulator operations may fail! Any action that would damage the crane is simply repeated until the operator can run it safely over and over again.
OPERATION
The training simulator shows operation of the Eagle-Access as a 3D animation on 3 large TV monitors. A smaller monitor shows views of the four cameras mounted on the crane. The operator stands in front of the screens. With the joysticks on the remote controller he operates the Eagle Access. A computer monitor at the side shows the trainer interface. With the trainer interface, the trainer can operate start and stop the training simulator, and choose the scenarios he wants to train.